SARATOGA PRIDE in Alliance with SBF Online present A Night of Short Story Writers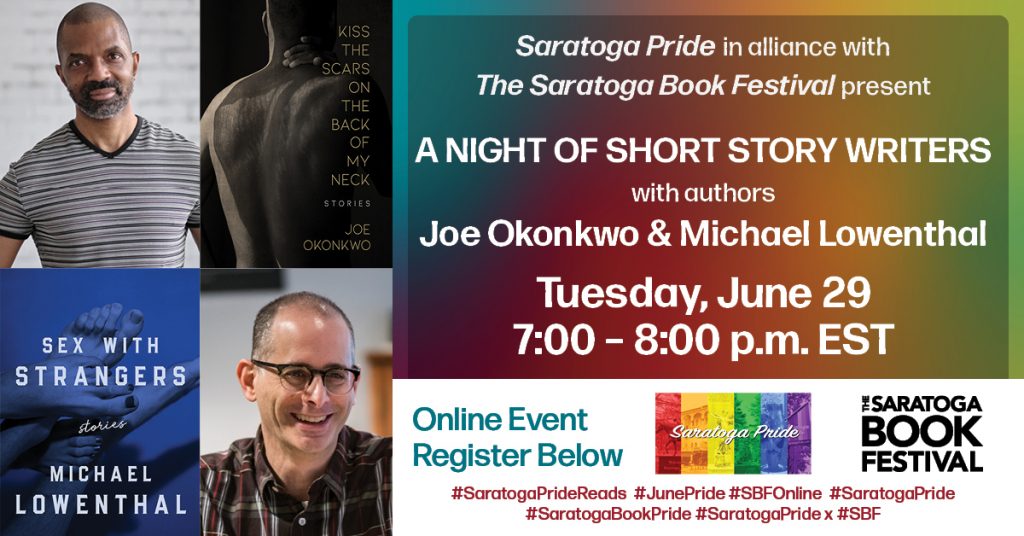 About The Author
Joe Okonkwo's new short story collection, Kiss the Scars on the Back of My Neck, is due out in August 2021 from Amble Press. Called "Heartbreaking, hilarious, and achingly sexy," this masterful collection is a follow up of Okonkwo's debut novel, Jazz Moon which won the prestigious Edmund White Award for Debut Fiction in 2017 and was short-listed for the Lambda Literary Award for Best Gay Fiction.
Okonkwo's short stories have appeared in The Piltdown Review, The New Engagement, Penumbra, Promethean, Shotgun Honey, Storychord, Love Stories from Africa, Best Gay Stories 2015, and Strength. His short story "Cleo" was nominated for a Pushcart Prize. Joe Okonkwo also served as Prose Editor for Newtown Literary, and he edited Best Gay Stories 2017.
Okonkwo is represented by the Baldi Literary Agency and is currently at work on a second novel titled King Gladys.
"I finished this book feeling richer, wiser, and more grateful to be alive." – Rahul Mehta, Lambda Literary Award-winning author of No Other World and Quarantine
Purchase Kiss the Scars on the Back of My Neck: Stories by Joe Okonkwo
Michael Lowenthal's short stories and essays have appeared in the prestigious literary journals Tin House, Ploughshares, The Southern Review, Guernica, True Story, and the Kenyon Review, and have been widely anthologized, including in Best New American Voices 2005. Lowenthal's first story collection, Sex With Strangers, was published in March 2021. A fiercely honest exploration of the risks and rewards of contemporary relationships—and hookups—Sex with Strangers embraces the dizzying power of attraction across the spectrum of
passion and infatuation.
Lowenthal is also author of four novels: The Same Embrace (Dutton, 1998); Avoidance (Graywolf Press, 2002); Charity Girl (Houghton Mifflin, 2007), which was a New York Times Book Review "Editors' Choice" and a Washington Post "Top Fiction of 2007″ pick; and The Paternity Test (University of Wisconsin Press, 2012), an Indie Next selection and a Lambda Literary Award finalist. He has also written for the New York Times Magazine, Boston Magazine, the Washington Post, the Boston Globe, Out, and other publications.
"Lowenthal's latest collection simmer[s] with fearless honesty… In these searing stories, the gulf between who we think we are and who we become when gripped by desire is ever widening." – Kirkus Reviews
About the Interviewer
About Saratoga Pride
Saratoga Pride works to foster connections among Saratoga area LGBTQ community members and visitors. It is an affiliate of the Pride Center of the Capital Region who, as the oldest continuous operating LGBTQ center in the US, has served the LGBTQ community since 1970.
About the Event
Two original, masterful voices in the short story genre, Joe Okonkwo and Michael Lowenthal, discuss their works and lives as authors. Q&A follows.