Emily Katz Anhalt is Professor of Classics at Sarah Lawrence College. Her most recent book is Enraged: Why Violent Times Need Ancient Greek Myths, which was selected as one of the Times Literary Supplement's Best Books of 2017.
Books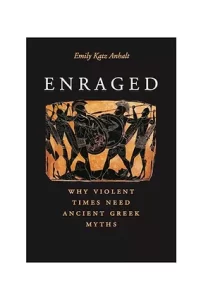 Embattled: How Ancient Greek Myths Empower Us to Resist Tyranny
(Redwood Press, Hardcover, $30.00)
An incisive exploration of the way Greek myths empower us to defeat tyranny.
"Anhalt encourages readers to look with fresh eyes at how easily power can be abused and how to fight back against despotic rule. Her engaging retellings of stories from ancient Greek epic and tragedy show just how relevant these texts are in the political climate of the twenty-first century."
―Donna Zuckerberg, author of Not All Dead White Men: Classics and Misogyny in the Digital Age
"The Greeks endured violence and demagoguery but also created antidotes, from the Odyssey's depiction of survival skills like rational deliberation, to the deep probes of politics by Aeschylus and Sophocles. Emily Katz Anhalt brilliantly articulates what this hard-won ancient wisdom offers those battling anti-democratic forces today."
―Richard Martin,author of Myths of the Ancient Greeks