Kalynn Bayron is the bestselling author of Cinderella Is Dead, This Poison Heart, and This Wicked Fate, and is a classically trained vocalist. When she's not writing she can be found enjoying musical theater, horror novels, and classical music. She currently lives in Ithaca, New York with her family. www.kalynnbayron.com • @KalynnBayron
Books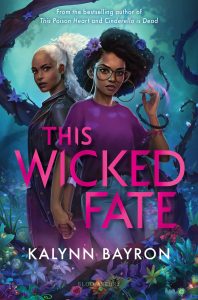 This Wicked Fate  (Bloomsbury YA, Hardcover, $18.99)
Would you tempt even the most dangerous fate to save the ones you love?  Bestselling author Kalynn Bayron continues the story of Briseis and her family's unique magic in the sequel to This Poison Heart.
"Bayron weaves science and Greek mythology into a captivating lore that lends weight to this fantastical contemporary story. She conjures entertaining and realistic dialogue and attentive characterization, while incisive descriptions and sumptuous prose evoke a wonderfully gothic atmosphere."
―Publishers Weekly, starred review
"This Poison Heart masterfully weaves a unique story grounded in the depths of Greek mythology and Black girlhood, ideal for lovers of folklore or those who enjoy the thrill of a well-paced and unanticipated adventure.
―Booklist, starred review
"Bayron conjures a world filled with magic and mystery. Brings much-needed inclusivity and contemporary flavor to the teen fantasy genre."
―Kirkus Reviews