Kathryn Bertine is an author, athlete, activist and documentary filmmaker. During her pro career in cycling, she was a three-time Caribbean Champion, six-time national champion of St. Kitts and Nevis (SKN) and raced five years on the pro circuit with four UCI domestic and World Tour teams Colavita, Wiggle-Honda, BMW and Cylance Pro Cycling. She retired from racing in 2017 but remains active in advancing equity for women's pro cycling.
From 2006 through 2012, Bertine was a columnist, author and senior editor for ESPN. As an advocate for equality in women's sports, Bertine started the social activism movement Le Tour Entier in an effort to bring parity to women's professional road cycling, starting with the Tour de France. She and her team succeeded, and in 2014 the Tour de France added a women's event.
In 2017, she founded (and currently serves as CEO for) Homestretch Foundation, which provides free housing to female professional athletes struggling with the gender pay gap. Bertine was featured on the cover of Bicycling Magazine and profiled in Outside Magazine for her platforms of implementing change in the world.A native of Bronxville, NY she lives in Tucson, AZ. She holds a BA from Colgate University and an MFA from the University of Arizona. You can follow her on Twitter and Facebook at @kathrynbertine @halftheroad @letourentier @HomestretchFdn and www.kathrynbertine.com, www.halftheroad.com, www.letourentier.com, www.homestretchfoundation.org
Books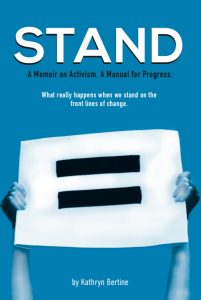 STAND: A Memoir on Activism. A Manual for Progress
(New Shelf Press, Hardcover, $29.00)
For Bertine, former ESPN columnist and professional cyclist, activism wasn't even on her radar in 2008. She was busy trying to get to the Beijing Olympic Games. When her ESPN assignment ended, advocacy took hold. Why aren't women allowed at the Tour de France? she wondered. In 2009, wonder turned to action. Then action became something bigger than bicycles. The next decade brought global petitions, documentary films, secret meetings, bullying managers, benched careers, personal demons, brain injuries, devastating depression, inner peace and historic victories for equal opportunity. With unabashed honesty, irreverence, vulnerability, history, humor and authenticity, Bertine's memoir-turned-manual on activism takes us behind the scenes of what really happens when we stand up and fight for what we believe. And why we must.