Lyn Liao Butler was born in Taiwan and moved to the U.S. when she was seven. Before becoming an author, she was a professional ballet and modern dancer, and is still a personal trainer, fitness instructor, and yoga instructor. She is an avid animal lover and fosters dogs as well as volunteers with rescues.  When she is not torturing clients or talking to imaginary characters, Lyn enjoys spending time with her FDNY husband, their son (the happiest little boy in the world), their three stubborn dachshunds, sewing for her Etsy shop, and trying crazy yoga poses on a stand-up paddleboard. So far, she has not fallen into the water yet.  She lives in New York and Kauai.
Books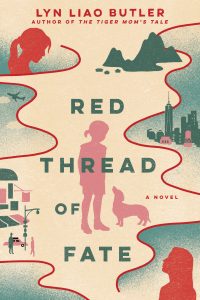 Red Thread of Fate
(Berkley, Paperback, $17.00)
In the wake of a tragedy and fueled by guilt from a secret she's kept for years, a woman discovers how delicate the thread that binds family is in this powerful novel by Lyn Liao Butler.
"Lyn Liao Butler is quickly becoming a go-to author for heartfelt, complex stories. Red Thread of Fate has everything—family secrets, mystery, identity. The rare blend of suspense and humor makes this story hard to put down. I can't wait to read what Butler writes next!"
—Saumya Dave, author of What a Happy Family
"A heartfelt contemplation on the course of our lives—what is fate, what is the result of the choices we make—coupled with a central mystery that will keep you reading late into the night. It seems Lyn Liao Butler's fate is to entertain with absorbing stories and compelling characters that linger long after the final page."
—Steven Rowley, New York Times bestselling author of The Guncle