Allyson Dahlin grew up on a farm, raised by a Francophile father who influenced her fascination with the real Marie and Louis. She worked for a time as a counselor at a boarding school for girls with complex trauma and now works as an SEO ninja, which involves copywriting, a little editing, and believe it or not, no martial arts. She lives with a professor and a grumpy cat in beautiful upstate New York. Cake Eater is her first novel, and you can find Dahlin at www.allysondahlin.com.
Books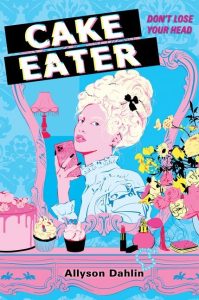 Cake Eater
(HarperTeen, Hardcover, $18.99)
Decadent, thrilling, and romantic, this Black Mirror-esque retelling of the reign of one Marie Antoinette is perfect for fans of The Belles and American Royals.
"With a love story for the ages, this vivid tale takes the history we know and recasts it into an exciting, technicolor, future world that challenges what we know here in the present, and how we know it. I loved it! I couldn't put it down!"
—Beth Revis, New York Times bestselling author of the Across the Universe trilogy
 "Cake Eater's cyberpunk reimagining of Marie Antoinette whisks you into the dazzling neon-lit world of far future Versailles only to peel back layer after layer of unnerving truths. A bittersweet story about one girl's struggle against the tragic cycles of human greed and human history."
—Xiran Jay Zhao, #1 New York Times bestselling author of Iron Widow