Elizabeth Everett lives in upstate New York with her family. She likes going for long walks or (very) short runs to nearby sites that figure prominently in the history of civil rights and women's suffrage. The Secret Scientists of London series is inspired by her admiration for rule breakers and belief in the power of love to change the world.
Books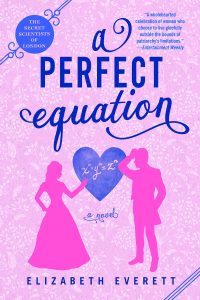 A Perfect Equation (The Secret Scientists of London series)
(Berkley, Paperback, $16.00)
A PopSugar and BookBub Most Anticipated Romance of 2022!
How do you solve the Perfect Equation? Add one sharp-tongued mathematician to an aloof, handsome nobleman.Divide by conflicting loyalties and multiply by a daring group of women hell-bent on conducting their scientific experiments.The solution is a romance that will break every rule.
"The second book in Everett's Secret Scientists of London series stands out among recent feminist historical romances thanks to a fierce enemies-to-lovers plotline and a sexual tension that is built slowly and expertly."
—Kirkus Reviews