Gregory Galloway is the author of the novels The 39 Deaths of Adam Strand and the Alex Award-winning As Simple As Snow. His short stories have appeared in the Rush Hour and Taking Aim anthologies. He is a graduate of the Iowa Writers' Workshop and currently resides in NW Connecticut. His newest novel, Just Thieves, was named one of the "Best Noir Novels of 2021" by CrimeReads and will publish this Fall.
Books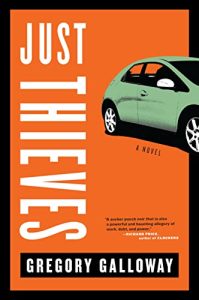 Just Thieves
(Melville House, Paperback, $17.99 [November 1, 2022)
A down and dirty gem of a tale—a twisty and twisted crime novel that evokes the worlds of George V. Higgins, Patricia Highsmith, and David Mamet, destined to be a Neo-noir classic.
A CrimeReads Best Noir Novels of 2021
Bookreporter's Favorite Books of 2021
"A sucker punch noir that is also a powerful and haunting allegory of work, debt, and power."
—Richard Price