Alexandra Horowitz observes dogs for a living. Her research began over two decades ago, studying dogs at play, and continues today at her Dog Cognition Lab at Barnard College. She is the author of Inside of a Dog: What Dogs See, Smell, and Know and three other books: On Looking; Being a Dog; and Our Dogs Ourselves. She lives with her family of Homo sapiens, Canis familiaris, and Felis catus in New York City.
Books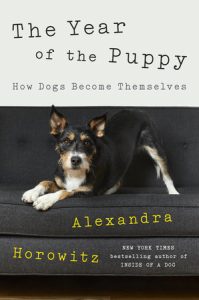 The Year of the Puppy: How Dogs Become Themselves
(Viking, Hardcover, $28.00)
 If you're a dog owner, you probably focus much of your energy on training. But the most useful way to really understand a dog is to understand them from the inside out. No recent book has been a better guide to this than dog researcher Alexandra Horowitz's Inside of a Dog, a book that spent 65 weeks on the New York Times bestseller list and has become a genuine classic in the genre since it was published a little over a decade ago.
 Now, Horowitz turns her expert eye to the most challenging phase for dog owners: the first year with a puppy. In The Year of the Puppy: How Dogs Become Themselves (Viking, on-sale Sept. 20, 2022), Horowitz follows a puppy – ultimately to be her own dog, Quiddity – from birth to her first year of life with her new family. The initial ten weeks of a puppy's life are a mystery to most dog owners, and in her chronicle of Quid's development we learn about a dog's physical, mental, and emotional development – a more scientific and narrative What to Expect When You're Expecting for puppy owners. Horowitz shares her personal weekly ob servations along with what science has learned about how a dog matures and their remarkable abilities, and how those parallel human developments. But The Year of the Puppy is also a rom com, for as any long-term dog lover knows, bringing a new pup home is essentially a fifteen-year-long blind date, and how Horowitz falls in love with Quid makes for a book that is as charming as it is enlightening – and a must-read for any new puppy owner.
Horowitz, one of the most highly regarded and popular experts on dog cognition, heads the Dog Cognition Lab at Barnard College. She is a frequent opinion writer on dog cognition and behavior.