Ellen Kushner is the author of several renowned fantasy novels for adults and children, including Swordspoint and The Golden Dreidel. A writer first, Ellen is also a former NPR radio host and teacher.
Books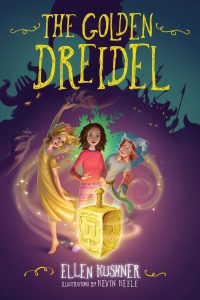 The Golden Dreidel
(Charlesbridge, Hardcover, $15.99)
From award-winning fantasy author Ellen Kushner comes an unforgettable adventure inspired by Jewish folklore and tradition.
"This magical middle grade Chanukah story, a Jewish spin on The Nutcracker, will delight not only fantasy readers, but those who enjoy witty humor and challenging riddles. Non-Jewish readers will also enjoy learning all about the significance and rules of how to play the popular Chanukah game of dreidel. Fans of fantasy classics like Coraline, Alice's Adventures in Wonderland, and The Phantom Tollbooth will feel at home with The Golden Dreidel." —School Library Journal
Swordspoint Reviews
"Swordspoint begins with a single drop of blood on a field of new-fallen snow, an image that burned itself forever into my mind the first time I encountered it. I can close my eyes and see it still. It's a terrific opening, and unforgettable opening… and the book just gets better from there."
— George R.R. Martin
"Expands the literary boundaries of stylistic and imaginative achievement in fantasy and contemporary literature." —The New York Times Book Review