Mandy McHugh is a first-time novelist from Troy, NY. She holds an MA in English from the College of Saint Rose and a BA in English Education from Le Moyne College. Her works have appeared in various literary magazines and podcasts, and she lives in upstate NY (where the novel is set) with her husband, two kids, and dog.
Books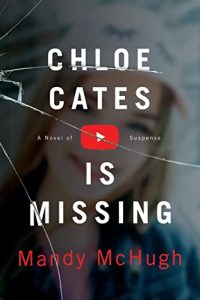 Chloe Cates Is Missing 
The disappearance of a young internet celebrity ignites a firestorm of speculation on social media, and to find her a detective will have to extinguish the blaze.  Told from multiple points of view including Jennifer, Emilina, and pages from Chloe's lost diary, Chloe Cates Is Missing is a suspenseful novel of a child pushed to the brink, and of the troubled family that desperately needs her back.
Full of disturbing secrets, a supremely dysfunctional family and an unapologetically unlikeable protagonist, McHugh raises important questions around what parents should be allowed to post about their children on social media. Scratch the shiny surface of this perfect family and you'll see the dark secrets lurking beneath the glitter. A smart and textured thriller."
― Christina McDonald, USA Today Bestselling Author
"Mandy McHugh delightfully claws away the glitter to reveal the darkness and dysfunction roiling beneath the surface of a seemingly perfect family. Everyone has a secret they're desperate to hide, everyone is lying, and it's great fun (can I call murder fun?) to fit the shifting pieces together. A spectacular debut from a promising writer."
― Laura McHugh, award-winning author of What's Done in Darkness
"It's a mommy blog gone terribly wrong in this captivating debut from Mandy McHugh. CHLOE CATES IS MISSING has everything I want in a domestic thriller: propulsive storytelling, razor-sharp prose, disturbing behavior, explosive secrets, and a uniquely dysfunctional family. Settle in for this stunner; once you start reading, you won't be able to stop."
― Megan Collins, author of The Family Plot