Ray O'Conor has been a weekly newspaper columnist and author of articles and opinion pieces published in several newspapers and magazines. His work as an author of narrative non-fiction has been the subject of stories and articles across broadcast, print and digital media. His first book, She Called Him Raymond – A True Story of Love, Loss, Faith and Healing, is a candidate for the 2016 Pulitzer Prize in the non-fiction category.
Ray left his position as a bank CEO and senior officer of a publicly traded company to pursue his writing career. He also served as a Special Agent with the United States Department of Defense and as a U.S. Border Patrol Agent.
Ray has a lifetime of involvement with many charitable causes and community based organizations. Among other recognitions, he was named a General Mills' "Wheaties Everyday Champion", is the recipient of the Distinguished Leadership Award by the National Association for Community Leadership, the American Bar Association's Liberty Bell Award, the Centennial Good Scout Award from the Boy Scouts of America and the U.S. Department of Health and Human Services' National Community Action Award. He lives in Saratoga, NY
Books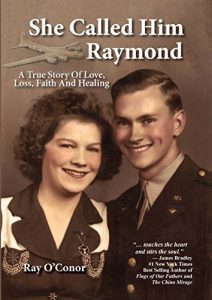 She Called Him Raymond
ShiresPress, Paperback
A letter penned in 1944 uncovers the powerful and heartfelt story of Helen Gregg, the daughter of Irish immigrant parents who grew up in the miseries of Hell's Kitchen during the Great Depression, and Clarence Raymond Stephenson, a young aspiring B-17 pilot raised in the small, struggling city of Ironton, Ohio. Fate brings them together in New York's Central Park in 1942. From the moment their eyes first met, they knew their lives would never be the same. This captivating and poignant story of their struggles and romance, his exploits as a highly decorated B-17 pilot during World War II, and the tragedy that tears them apart, will inspire you while tugging at your heart. With sensitivity and grace, Ray O'Conor reveals a secret about the dashing and brave young aviator who stole Helen's heart, and he divulges a promise that Helen made to Raymond in the summer of 1942 that she had to keep, no matter how long or how hard it might be to fulfill. Theirs is a compelling story of two ordinary people who led extraordinary lives during the most tumultuous period in history.