Lynn Painter writes romantic comedies for both teens and adults. She is the author of Better Than the Movies, Mr. Wrong Number, and The Do-Over, as well as being a regular contributor to the Omaha World-Herald. She lives in Nebraska with her husband and pack of wild children, and when she isn't reading or writing, odds are good she's guzzling energy drinks and watching rom coms. You can find her at LynnPainter.com, on Instagram @LynnPainterKirkle, or on Twitter @LAPainter.
Books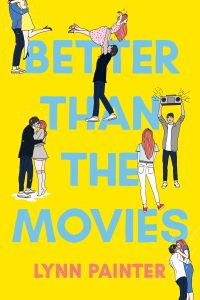 Better Than the Movies
(Simon & Schuster, Paperback, $12.99)
Perfect for fans of Kasie West and Jenn Bennett, this sweet and funny teen rom com follows a hopelessly romantic teen girl and her cute yet obnoxious neighbor as they scheme to get her noticed by her untouchable crush.