Dottie Pepper is a 17-time winner on the LPGA tour, including two major championships. She also won once on the JLPGA Tour and represented the U.S. 6 times in the Solheim Cup, compiling a 13-5-2 record, including 5-1 in singles play.
She played the LPGA Tour from 1988 until her retirement in 2004 when she began a career in television that has covered every major in men's golf and nearly every major in women's professional golf. She has also covered every major international amateur golf competition. She was the first woman to announce live golf at The Masters beginning in 2016 and in 2020 became the first walking reporter to cover that same event.
Dottie served 3 years as an Independent Director on the PGA of America Board of Directors and was the 2016 William D. Richardson Award winner, given by the Golf Writers Association of America for continuing contributions to golf and the 2021 Gold Tee winner, given by the Metropolitan Golf Writers Association for career achievements that exemplify the best spirit and traditions of the sport of golf.
She is currently the lead walking reporter for CBS Sports' coverage of the PGA Tour, PGA Championship and Masters. She is also the author of the recently released book and audiobook, Letters to a Future Champion: My Time with Mr. Pulver.
Books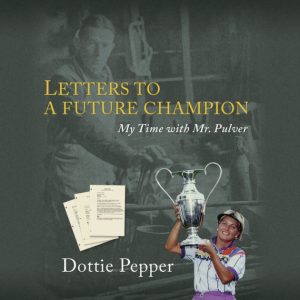 Letters to a Future Champion
(Mission Point Press, Paperback, $17.95)
Letters to a Future Champion is a loving tribute to the power a mentor can have on an athlete's career. Written by 17-time LPGA Tour winner, two- time major champion and lead CBS golf reporter, Dottie Pepper traces the influence Mr. Pulver, a retired PGA golf professional, had on her skills as well as her character... both on the practice range and in the letters the two exchanged after lessons and tournaments. Mr. Pulver would carefully tap out a critique, a technique or advice on the life lessons a young Dottie would need to rise to the top, sending her nearly 100 letters by the time of his death in 1986.