Barry Strauss is a professor of history and classics at Cornell University, The Corliss Page Dean Fellow at the Hoover Institution, and a leading expert on ancient military history. He has written or edited several books, including The Battle of Salamis, The Trojan War, The Spartacus War, Masters of Command, The Death of Caesar, and Ten Caesars. Visit BarryStrauss.com.
Books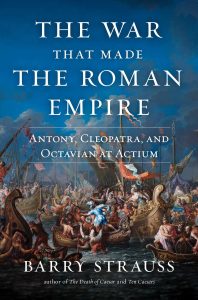 The War That Made the Roman Empire:
Antony, Cleopatra, and Octavian at Actium
(Simon & Schuster, Hardcover, $30.00)
In this riveting and exciting history, Barry Strauss, ancient history authority, describes the gripping story of one of history's most important and yet little-known wars, the campaign culminating in the Battle of Actium in 31 BC, whose outcome determined the future of the Roman Empire.
Following Caesar's assassination and Mark Antony's defeat of the conspirators who killed Caesar, two powerful men remained in Rome—Antony and Caesar's chosen heir, young Octavian, the future Augustus. When Antony fell in love with the most powerful woman in the world, Egypt's ruler Cleopatra, and thwarted Octavian's ambition to rule the empire, another civil war broke out. In 31 BC one of the largest naval battles in the ancient world took place—more than 600 ships, almost 200,000 men, and one woman—the Battle of Actium. Octavian prevailed and subsequently defeated Antony and Cleopatra, who eventually committed suicide.
The Battle of Actium had great consequences for the empire. Had Antony and Cleopatra won, the empire's capital might have moved from Rome to Alexandria, Cleopatra's capital, and Latin might have become the empire's second language after Greek, which was spoken throughout the eastern Mediterranean, including Egypt.
"A grandiose love affair, doomed lovers, a trio of titanic rivals, deadly political intrigue, culminating in a seismic battle at sea—historian Barry Strauss is the perfect narrator for this epic episode in ancient empire-building." –Adrienne Mayor, author of Gods and Robots: Myths, Machines, and Ancient Dreams of Technology