Ken Tingley was the editor of The Post-Star in Glens Falls, New York from 1999 to 2020. He was president of the New York State Associated Press Association in 2010 when it merged with the state broadcasters association. He also served twice on the board of directors of the American Society of Newspaper Editors and was a Pulitzer Prize judge from 2008-09. He lives in Queensbury, New York.
Books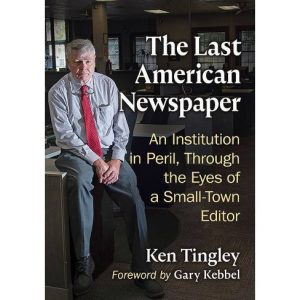 The Last American Newspaper
(McFarland, Paperback, $39.95)
The Last American Newspaper  represents what is happening in small communities across the United States as their newspapers struggle to survive. It is a celebration, not just of journalism, but the inspirational people and events that happen in small towns everywhere. Most importantly, it asks the question: who will be the community watchdog of the future? This book memorializes the American newspaper through the story of The Post-Star of Glens Falls, NY. The author, a devoted veteran of The Post-Star, compiles a series of vignettes that depict the newspaper's coverage of various stories over the years. It is a never-before-seen glimpse behind the newsroom curtain through the narrative non-fiction stories that chronicle the investigative journalism done in small towns and the effect it all has on the journalists and readers defined by their hometown newspaper.
"The Last American Newspaper is a compelling exploration of the meaning, value, and import of this country's local community newspapers. Ken Tingley brings to life what the paper and its people mean to a community, and helps the reader understand that the reporters and all who work at local papers, are part of the community they serve. He brings the events, issues, concerns, successes, trials and tribulations faced by local communities to light and reminds us that those working for the paper are community members dedicated to bringing their community the news and the truth. Tingley is a gifted writer and master storyteller. He has written a timely and important book at a critical time as we face the loss of local newspapers across the country." ―Eric S. Mondschein, author, Life at 12 College Road