Nancy Werlin (she/her) is the author of eleven books for teens, including Zoe Rosenthal Is Not Lawful Good, the National Book Award Finalist The Rules of Survival, the Edgar Award winner The Killer's Cousin,and the New York Times bestseller Impossible. Nancy Werlin lives outside Boston.
Books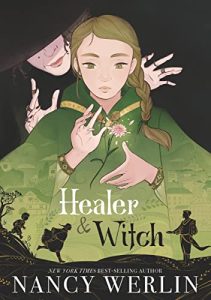 Healer and Witch
(Candlewick, Hardcover, $19.99)
After eleven young-adult novels, best-selling and award-winning author Nancy Werlin casts a brilliant new spell in a middle-grade historical fantasy for fans of classic fare.
Gracefully explores themes of identity, family and belonging. . . Werlin (Zoe Rosenthal Is Not Lawful Good) brings compassion and complexity to her depictions of the relationships between characters, challenging standard notions of good and evil. . . . Although Werlin skillfully evokes Healer and Witch's period setting, Sylvie's journey of self-discovery and its accompanying themes of female empowerment are timeless. —Shelf Awareness (starred review)
Against the backdrop of a turbulent era Nancy Werlin spins a sophisticated coming-of-age story in 'Healer & Witch,' a novel for readers ages 9-12 that is set in France. . . . a properly inventive, historically respectful story with a touch of magic (and romance) in its realism.
—The Wall Street Journal