Lyndall Clipstone is the author of eerily vivid (Marissa Meyer, internationally bestselling author of The Lunar Chronicles), bloodied but gorgeous (Victoria Mier, bookseller at The Spiral Bookcase) gothic romance, with prose that reads like a hypnotic incantation (Kirkus).
A former youth librarian who grew up running wild in the Barossa Ranges of South Australia, she currently lives in Adelaide, in a hundred-year-old cottage with her partner, two children, and a shy black cat.Her debut novel, Lakesedge, was a Dymocks, Amazon, and Barnes & Noble bestseller, nominated for the 2021 Book Shimmy Awards, and selected as one of Better Reading's 2022 top 50 kids' books.
Books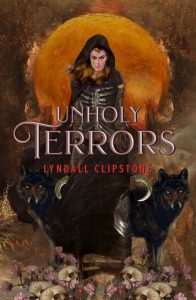 About Holy Terrors
Everline Blackthorn has devoted her life to the wardens—a sect of holy warriors who guard against monsters known as the vespertine.
When a series of strange omens occur, Everline disobeys orders to investigate, and uncovers a startling truth in the form of Ravel Severin: a rogue vespertine who reveals the monsters have secrets of their own.
Ravel promises the help she needs— for a price. Vespertine magic requires blood, and if Everline wants Ravel to guide across the dangerous moorland, she will have to allow him to feed from her.
It's a sin for a warden to feed a vespertine— let alone love one— and as Everline and Ravel travel further across the moorland, she realizes the question isn't whether she will survive the journey, but if she will return unchanged. Or if she wants to.
Critically acclaimed author of monstrous romances Lyndall Clipstone weaves a bloodstained tale of a girl torn between her vows and her heart, where falling in love may be the deepest sin of all…