Julie C. Dao is the critically acclaimed author of many books for teens and children including Forest of a Thousand Lanternsand Broken Wish. Her novels have earned starred reviews from Booklist, School Library Journal, and Publishers Weekly, won recognition as Junior Library Guild Selections and Kids' Indie Next List picks, and landed on multiple best-of-year lists including YALSA and the American Library Association. A proud Vietnamese-American who was born in upstate New York, she now lives in New England.
Books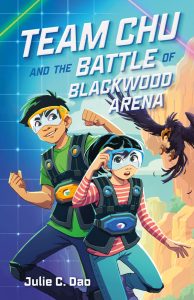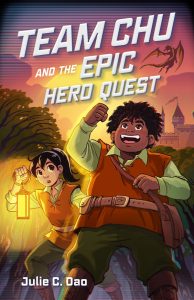 About Team Chu and the Epic Hero Quest
Check out acclaimed author Julie C. Dao's debut middle grade series, featuring a team of kids ready for any challenge–even saving the fantasy world of Pantaera from dark forces and certain ruin!
In Team Chu and the Epic Hero Quest, the popular fantasy video game War of Gods and Men is being adapted for reality television. Team Chu and company are competing for the title of child hero: the young person destined to unite the forces of Pantaera to save it from a sinister fate. Over the next week, they'll be challenged by sirens, vampires, elves, and more in Tests of Courage, DetermiPopular athlete Clip is confident he'll take the prize, if it weren't for that test of humility. And despite claiming not to care about the game, Sadie finds herself pulled into the immersive world of Pantaera and rising to meet the challenges thrown her way. And her best friend, Jeremy, proud nerd and last pick for P.E. teams, wants more than anything to save the world of the game he loves, no matter the cost.
Join Clip, Sadie, Jeremy, and their friends on a thrilling adventure through an extraordinary fantasy world to learn who among them has what it takes to become Pantaera's child hero!