Jennifer Dugan is a writer, a geek and a romantic, who loves writing stories about messy, complicated women and girls. Her debut novel, Hot Dog Girl, was called a "great fizzy rom-com" by Entertainment Weekly and "one of the best reads of the year, hands down" by Paste Magazine, although she is best known for Some Girls Do, her third young adult novel that took Tiktok by storm. She recently released her adult romance debut, Love at First Set about "the most hilarious disaster bisexuals you'll ever meet" according to the queen of LGBTQ Reads, Dahlia Adler, for Buzzfeed. Jennifer has also written two graphic novels, Coven and the forthcoming Full Shift with artist Kit Seaton.
Books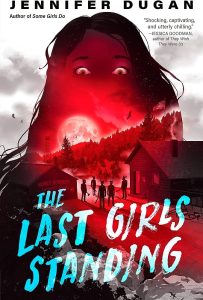 About The Last Girl Standing
In this queer YA psychological thriller from the author of Some Girls Do, perfect for fans of One of Us is Lying and A Good Girl's Guide to Murder, the sole surviving counselors of a summer camp massacre search to uncover the truth of what happened that fateful night, but what they find out might just get them killed.
"Shocking, captivating, and utterly chilling. A delicious thriller that will have you tearing through pages to get to the end, where you won't be disappointed." —Jessica Goodman, bestselling author of They Wish They Were Us
"Enthralling . . . A solid addition to the camp horror genre, boasting urgent mystery and queer romance alongside its psychological thriller foundation." —Publishers Weekly
"Haunting and compelling . . . A queer psychological thriller with teeth." —Kirkus Reviews
"A thriller that grapples with the loneliness of trauma and the bonds that, for better or for worse, are forged there. The slow spiral to an unsettling, well-earned end will leave readers with much to think about." —Booklist
"A feral Sapphic psych thriller slasher that digs into how well we can ever know the people we love." —Paste Magazine
"Full of scares and suspense, The Last Girls Standing is a whipcrack summer slasher. Dugan's unforgettable characters are sure to break your heart." —Rory Power, New York Times bestselling author of Wilder Girls