Maxwell Eaton III is a highly tolerated author and illustrator of numerous books for children, including his The Truth About Your Favorite Animals series, which includes entries on dolphins, elephants, crocodiles, and more. When he isn't drawing talking animals, Eaton can be found in a canoe with his wife and daughter in the Adirondack Mountains of New York State.
Books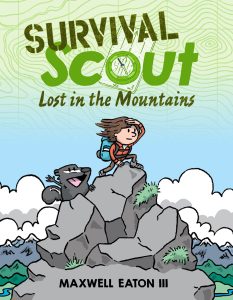 About Survival Scout: Lost in the Mountains
Scout's woe is your gain in the first of the Survival Scout graphic novel series, where Scout endures natural disasters so we don't have to.
Stay calm, and Scout it out!
1) Take inventory of what you have
2) Find shelter
3) Make a fire
4) Signal for help
5) Secure water and food
Follow Scout's trial through the mountains, as she explains how to survive if you ever find yourself lost in the wilderness. A perfect travel companion for those with a knack for adventure, or prone to getting disoriented in the forest
"An enlightening guide for aspiring adventurers." — Kirkus Reviews
"A thoroughly enjoyable wilderness-themed geek-out, even for readers who never explore beyond their backyard." —  Publishers Weekly
"An enjoyable read for backyard explorers and wilderness fans alike, this is a great first purchase for graphic novel ­collections." — School Library Journal
"This humorous and informative comic-format guide showcases all things survival in the great outdoors." — Horn Book Magazine