Forché was born in Detroit, Michigan, to Michael Joseph and Louise Nada Blackford Sidlosky. Forché earned a bacherlor's degree in Creative Writing at Michigan State University in 1972, and Master of Fine Arts at Bowling Green State University in 1975.
She has taught at a number of universities, including Bowling Green State University, Michigan State University, the University of Virginia, Skidmore College, Columbia University, San Diego State University and in the Master of Fine Arts program at George Mason University.
Forché is a Presidential Fellow at Chapman University, and has received honorary doctorates from the University of Scranton, the California Institute of the Arts, Marquette University, Russell Sage University, and Sierra Nevada College. She was Director of Lannan Center for Poetics and Social Practice, and held the Lannan Visiting Chair in Poetry at Georgetown University, Washington, DC, where she is now a University Professor. She is co-chair, with Gloria Steinem, of the Creative Advisory Council of Hedgebrook, a residency for women writers on Whidbey Island. She lives in Maryland with her husband, Harry Mattison, a photographer, whom she married in 1984. Their son is Sean-Christophe Mattison.
Books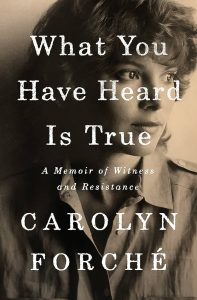 About What You Have Heard is True
"Reading it will change you, perhaps forever." —San Francisco Chronicle
"Astonishing, powerful, so important at this time." --Margaret Atwood
What You Have Heard is True is a devastating, lyrical, and visionary memoir about a young woman's brave choice to engage with horror in order to help others. Written by one of the most gifted poets of her generation, this is the story of a woman's radical act of empathy, and her fateful encounter with an intriguing man who changes the course of her life.
Carolyn Forché is twenty-seven when the mysterious stranger appears on her doorstep. The relative of a friend, he is a charming polymath with a mind as seemingly disordered as it is brilliant. She's heard rumors from her friend about who he might be: a lone wolf, a communist, a CIA operative, a sharpshooter, a revolutionary, a small coffee farmer, but according to her, no one seemed to know for certain. He has driven from El Salvador to invite Forché to visit and learn about his country. Captivated for reasons she doesn't fully understand, she accepts and becomes enmeshed in something beyond her comprehension.
Together they meet with high-ranking military officers, impoverished farm workers, and clergy desperately trying to assist the poor and keep the peace. These encounters are a part of his plan to educate her, but also to learn for himself just how close the country is to war. As priests and farm-workers are murdered and protest marches attacked, he is determined to save his country, and Forché is swept up in his work and in the lives of his friends. Pursued by death squads and sheltering in safe houses, the two forge a rich friendship, as she attempts to make sense of what she's experiencing and establish a moral foothold amidst profound suffering. This is the powerful story of a poet's experience in a country on the verge of war, and a journey toward social conscience in a perilous time.
2019 National Book Award Finalist