Jennifer's experience as a technical writer and college writing instructor gave her the experience to transition into proofreader, editor, and author. Since 2014, she has run Edit Your Docs, a freelance proofreading and editing service. In 2019, she celebrated the publication of her first book, Sir Barton and the Making of the Triple Crown published by University Press of Kentucky. In addition to researching and writing monthly columns for several horse racing sites, she is now working on her second book, Foxes of Belair: Gallant Fox, Omaha, and the Quest for the Triple crown (2023 tentative).
Books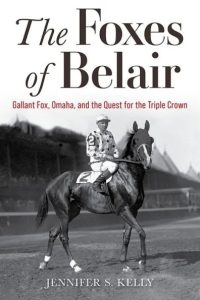 About The Foxes of Belair: Gallant Fox, Omaha, and the Quest for the Triple Crown
Calumet, Claiborne, King Ranch―these iconic names are among the owners and breeders revered by Thoroughbred industry professionals and racing fans around the world. As campaigners of many of the 20th century's top racehorses, their prestige has been confirmed by decades of competition in the Triple Crown, the most esteemed series in American Thoroughbred racing. Even with these substantial legacies, their success is measured against the benchmark set by one of racing's earliest dynasties, the historic Belair Stud.
The story of this legendary operation began with William Woodward's childhood memories of grand days at the racetrack, inspiring dreams of breeding a champion or two of his own. During a year working for the American Ambassador to the United Kingdom, Woodward frequented English racetracks, rekindling that childhood dream of breeding and owning champion Thoroughbreds. Woodward turned those dreams into reality, building Belair Stud on his family's Maryland estate, launching what would become the preeminent Thoroughbred breeding and racing empire in America and chasing racing's biggest prizes in both the United States and England.
The defining moment for Belair came when Woodward bred the imported stallion Sir Gallahad III to his mare Marguerite. Their colt, Gallant Fox, became only the second horse in history to win the Preakness Stakes, the Kentucky Derby, and the Belmont Stakes in the same year. In 1935, the farm cemented the Triple Crown as the gold standard for three-year-olds when Gallant Fox's son, Omaha, duplicated his sire's trio of victories, a sweep that sealed the farm's legacy and carved its name in the annals of racing history.
In The Foxes of Belair: Gallant Fox, Omaha, and the Quest for the Triple Crown, Jennifer Kelly examines the racing legacies of Gallant Fox and Omaha and how William Woodward's service to racing during the 20th century forever changed the landscape of the American Thoroughbred industry.