Emma Kress is a long-time teacher. She taught high-school English in Central New York and was a finalist for NY State Teacher of the Year. She is a graduate of Vassar College, Columbia University's Teachers College, and the MFA program in Writing for Children and Young Adults at Vermont College of Fine Arts. Earlier in her career, Emma worked at the Victim Services Agency in NYC and as a peer counselor facilitating workshops for teens on sexual assault. She lives with her family in Saratoga Springs, NY. Dangerous Play is her debut novel.
CONTACT: Instagram at @kress.emma
TikTok and Twitter at @emma_kress
www.emmakress.com.
Books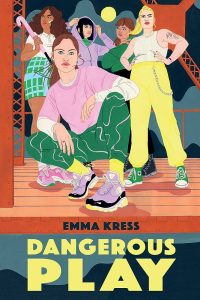 About Dangerous Play
A fierce team of girls takes back the night in this propulsive, electrifying, and high-stakes YA debut from Emma Kress
Zoe Alamandar has one goal: win the State Field Hockey Championships and earn a scholarship that will get her the hell out of Central New York. She and her co-captain Ava Cervantes have assembled a fierce team of dedicated girls who will work hard and play by the rules.
But after Zoe is sexually assaulted at a party, she finds a new goal: make sure no girl feels unsafe again. Zoe and her teammates decide to stop playing by the rules and take justice into their own hands. Soon, their suburban town has a team of superheroes meting out punishments, but one night of vigilantism may cost Zoe her team, the championship, her scholarship, and her future.
Perfect for fans who loved the female friendships of Jennifer Mathieu's Moxie and the bite of Courtney Summer's Sadie.