Wally Lamb is the award-winning author of six New York Times bestselling novels: I'll Take You There, Wishin' and Hopin', The Hour I First Believed, Oprah's Book Club selections I Know This Much is True and She's Come Undone, and, most recently, We Are Water, an intricate, multi-voiced account of a New England family coming to terms with the past and one another during the first years of the Obama presidency.
Lamb also edited Couldn't Keep It to Myself , I'll Fly Away, and You Don't Know Me, 3 volumes of essays from students in his writing workshop at York Correctional Institution, a women's prison in Connecticut, where he was a volunteer facilitator for 20 years.
Honors for Wally Lamb include a National Endowment for the Arts grant, the Poets & Writers/Barnes & Noble "Writers for Writers" Award, Distinguished Alumni awards from Vermont College of the Fine Arts and the University of Connecticut, the Friends of the Library USA Readers' Choice Award for Fiction, and the New England Book Award for Fiction.
Wally Lamb is a Connecticut native who holds Bachelors and Masters Degrees in teaching from the University of Connecticut and a Master of Fine Arts in Writing Degree from Vermont College of the Fine Arts. In 1981, Lamb was in the ninth year of his twenty-five year career as a high school English teacher at his alma mater, the Norwich Free Academy, when he began to write fiction. He was also an Associate Professor at the University of Connecticut, where he directed the English Department's creative writing program.
Wally Lamb and his wife Christine live in northeastern Connecticut and are the parents of three sons.
Books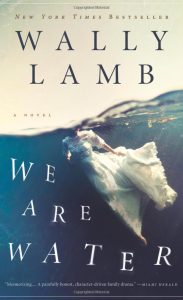 .