Silvina López Medin was born in Buenos Aires and lives in the Hudson Valley. She has published five books of poetry including La noche de los bueyes (Loewe Foundation International Young Poetry Prize), 62 brazadas (City of Buenos Aires Poetry Prize), That Salt on the Tongue to Say Mangrove (tr. Jasmine V. Bailey, Carnegie Mellon University Press, 2021), and Poem That Never Ends (Winner of the Essay Press Book Contest, 2021). She co-translated Anne Carson's Eros the Bittersweet and Robert Hass's Home Movies into Spanish. She is an editor at Ugly Duckling Presse.
Books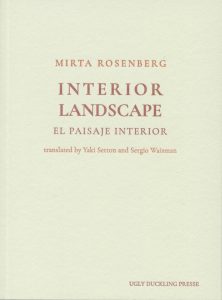 Ugly Duckling Presse Featured Book:
Interior Landscape
Mirta Rosenberg
Translated by Yaki Setton, Sergio Waisman
$18
Mirta Rosenberg (1951-2019) is a key poet of the '80s generation in Argentina. In Interior Landscape, Rosenberg explores questions of life and death, of changes experienced in one's body through time and the resulting changes in perspective.These poems contemplate the dislocation of the self, posing questions about the relationship between subjectivity, perception, the body, and memory. Rosenberg's voice is at once autobiographical and critical, displaying the interior landscapes of its experience as well as the complex ways that language forms a fundamental part of that experience. Originally published in Spanish in Argentina in 2012, Interior Landscape is the first book-length translation of Rosenberg's poetry to be published in English.
Copies may be purchased at:  Ugly Duckling Presse