Ed Mitzen is an unusual success story in the marketing world. Over the past 25 years, Ed has started three healthcare marketing firms – consisting of two health and wellness advertising agencies and one healthcare marketing consulting group – whose combined revenues are north of half a billion dollars. At his last firm, Fingerpaint, the Saratoga-based company he founded in 2008, he worked with some of the most recognized brands in the country.
After graduating from Syracuse University with a 2.8 GPA, Ed found himself earning $600 per month working as a hospital aide.
At age 30, Ed was working seventy hours a week and had two kids at home. He knew something had to change, that's when he decided to set out on his own in the world of marketing with a focus on healthcare.
In 2020 Ed stepped down as the day-to-day leader of Fingerpaint and, along with his wife Lisa, formed Business for Good, a nonprofit that aims to achieve social change through business. Ed's passion to turn his good fortune into good for local communities and beyond is truly an inspiring story.
Books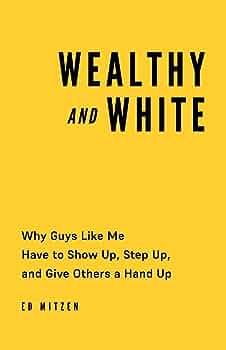 About Wealthy and White: Why Guys Like Me Have to Show Up, Step up and Give Others a Hand Up
America operates on an unspoken caste system. If you're not convinced of that fact, just watch the news on any given day. There's no question about it—white people have a clear advantage. Ed Mitzen knows—as a successful white man, he benefited enormously from America's historical status quo. Now, he's determined to break it down and lift others up. Forthright and compelling, Wealthy and White invites you to join Mitzen on his epic quest to change America from the inside out. If your personal success has benefited in any way from America's systemic racism, don't feel guilty. Do something. Wealthy and White is a clarion call to action—to use your knowledge, influence, wealth, and winning entrepreneurial spirit to solve our chronic societal problems. In the spirit of Andrew Carnegie, discover how you can use your skills and business acumen to reap the rich emotional rewards of helping others thrive. Discover the joys of giving back while building a legacy that inspires!