Todd Shimkus is the President of the Saratoga County Chamber of Commerce, a leadership role he has held since 2010. I'm Not Ready for This is Todd's first book, and it chronicles his work to save Saratoga's economy during the pandemic while he simultaneously advocated for his mom, Amy, a resident in The Wesley Community's memory care unit. All proceeds from the sale of his memoir are donated to Amy's Army in the Walk to End Alzheimer's.
Books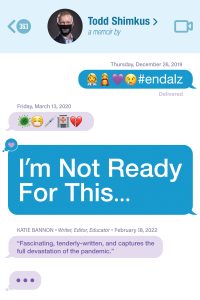 About I'm Not Ready for This
On Thursday, March 12, 2020, my streak of consecutive days visiting my mom, Amy Shimkus, came to a sudden and unexpected end.
Eight years into her Alzheimer's journey, she lived in a nursing home one mile from my home, in Saratoga Springs, New York, where I worked as the president of the local chamber of commerce. Two days earlier, the World Health Organization declared COVID-19 a global pandemic and now the virus, the fear of it, and how our government responded disrupted our lives and economy in more ways and for far longer than we could have imagined.
It would be 363 days before my mom and I were reunited, and more than two years until New York's state of emergency was lifted. My sister, Tracy, called what I did to care for my mom and to save my community, a crusade. This may be a slight exaggeration, but what I learned about being a caretaker, a community leader, and resilience needs to be shared.