Julia Park Tracey's newest novel THE BEREAVED, is about a widowed mother whose children are sent out on the Orphan Train during the Civil War, and how she tries to get them back again. The novel is based on the true story of the author's third great-grandmother.
Tracey's ancestors and their stories have given her a trail to follow from New York and New England to the deep south and the Pacific Coast. Park Tracey has three counties in California who claim her for their own: Sonoma County where she was raised; Alameda County where she
was a columnist, journalist, and Poet Laureate; and Nevada County where she currently resides. She is the author or editor of six books, including two collected diaries of her aunt, a teen flapper in the Roaring Twenties. She has written for Redbook, HuffPost, The Sun, Salon, and Babble. She is also a partner and the Executive Editor at Sibylline Books.
Books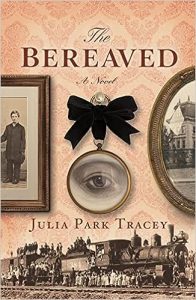 About The Bereaved
A Historical Novel about the Orphan Train and the Mothers Left Behind
Based on her research into her grandfather's past as an adopted child, Julia Park Tracey has created a mesmerizing work of historical fiction illuminating the darkest side of the Orphan Train.
In 1859, women have few rights, even to their own children. When her husband dies and her children become wards of a predator, Martha—bereaved and scared—flees their beloved country home taking the children with her to the squalor of New York City. But as a naive woman alone, preyed on by male employers, she soon finds herself nearly destitute. The Home for the Friendless offers free food, clothing, and schooling to New York's street kids and Martha secures a place temporarily for her children there. When she returns for them, she discovers that the Society has indentured her two eldest out to work via the Orphan Train, and has placed her two youngest for adoption. The Society refusing to help and with the Civil War erupting around her, Martha sets out to reclaim each of them. The novel received a starred review from Kirkus.