Paul Tremblay is the nationally bestselling author of Survivor Song, A Head Full of Ghosts, The Cabin at the End of the World which was adapted into the film Knock at the Cabin, and more. His essays and short fiction have appeared in the Los Angeles Times and The New York Times, among others, and he has won the Bram Stoker, British Fantasy, and Massachusetts Book awards. He has a master's degree in mathematics and lives outside Boston with his wife and two children.
Books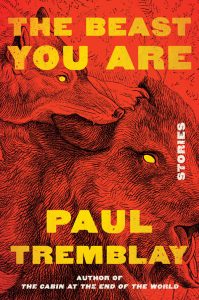 About The Beast You Are: Stories
Paul Tremblay has won widespread acclaim for illuminating the dark horrors of the mind in novels and stories that push the boundaries of storytelling itself. The fifteen pieces in this brilliant collection,  The Beast You Are , are all monsters of a kind, ready to loudly (and lovingly) smash through your head and into your heart. In "The Dead Thing," a middle-schooler struggles to deal with the aftermath of her parents' substance addictions and split. One day, her little brother claims he found a shoebox with "the dead thing" inside. He won't show it to her and he won't let the box out of his sight. In "The Last Conversation," a person wakes in a sterile, white room and begins to receive instructions via intercom from a woman named Anne. When they are finally allowed to leave the room to complete a task, what they find is as shocking as it is heartbreaking. The title novella, "The Beast You Are," is a mini epic in which the destinies and secrets of a village, a dog, and a cat are intertwined with a giant monster that returns to wreak havoc every thirty years. A masterpiece of literary horror and psychological suspense,  The Beast You Are  is a fearlessly imagined collection from one of the most electrifying and innovative writers working today.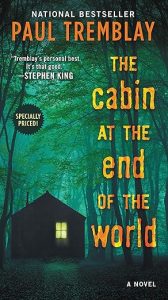 About The Cabin at the End of the World
Seven-year-old Wen and her parents, Eric and Andrew, are vacationing at a remote cabin on a quiet New Hampshire lake. Their closest neighbors are more than two miles in either direction along a rutted dirt road.
One afternoon, as Wen catches grasshoppers in the front yard, a stranger unexpectedly appears in the driveway. Leonard is the largest man Wen has ever seen, but he is young, friendly, and he wins her over almost instantly. Leonard and Wen talk and play until Leonard abruptly apologizes and tells Wen, "None of what's going to happen is your fault." Three more strangers then arrive at the cabin carrying unidentifiable, menacing objects. As Wen sprints inside to warn her parents, Leonard calls out: "Your dads won't want to let us in, Wen. But they have to. We need your help to save the world."
Thus begins an unbearably tense, gripping tale of paranoia, sacrifice, apocalypse, and survival that escalates to a shattering conclusion, one in which the fate of a loving family and quite possibly all of humanity are entwined. The Cabin at the End of the World is a masterpiece of terror and suspense from the fantastically fertile imagination of Paul Tremblay.