Mark Harris in Conversation with Audrey Kupferberg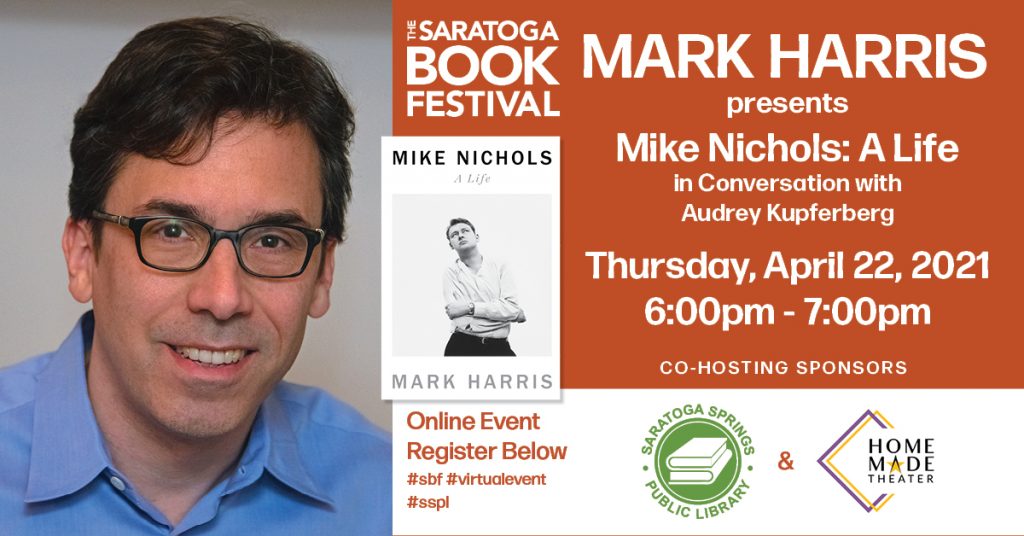 About The Author
Mark Harris is the author of Five Came Back: A Story of Hollywood and the Second World War, and Pictures at a Revolution: Five Movies and the Birth of the New Hollywood, which was named a notable book of the year, by the New York Times and the American Library Association. He is currently a writer for New York, where he often covers the intersection of culture and politics. He lives in New York City with his husband, Tony Kushner.
About the Interviewer
Audrey Kupferberg is a film historian, lecturer, and appraiser of moving image materials. For more than a decade she has been film commentator for WAMC Northeast Public Radio. She is Lecturer Emeritus from University at Albany where she taught film history for two decades and was Director of Film Studies. She and her late husband and creative partner, Rob Edelman, lectured together, co-wrote many film- and theater-related articles, and biographies of Angela Lansbury, John Travolta, and Walter Matthau, as well as Meet the Mertzes, a double biography of I Love Lucy's Vivian Vance and William Frawley
About the Event
Saratoga Book Festival, Saratoga Springs Public Library, and Home Made Theater are pleased to present Mark Harris in Conversation with Audrey Kupferberg. In Mike Nichols: A Life, author and journalist Mark Harris offers the first full-scale biography of the celebrated film director, stage director, and improv comedian. Harris interviewed over 250 people for this book, including Elaine May, Meryl Streep, Stephen Sondheim, Robert Redford, Glenn Close, Tom Hanks, Candice Bergen, Emma Thompson, Annette Bening, Natalie Portman, Julia Roberts, Lorne Michaels, and Gloria Steinem. In it, he gives an intimate and even-handed accounting of success and failure alike; the portrait is not always flattering, but its ultimate impact is to present the full story of one of the most interesting, complicated, and consequential figures in the worlds of theater and motion pictures have ever seen. He will be joined in conversation by film historian and WAMC commentator, Audrey Kupferberg.