Michael Ian Black presents A Better Man in conversation with Beck Krefting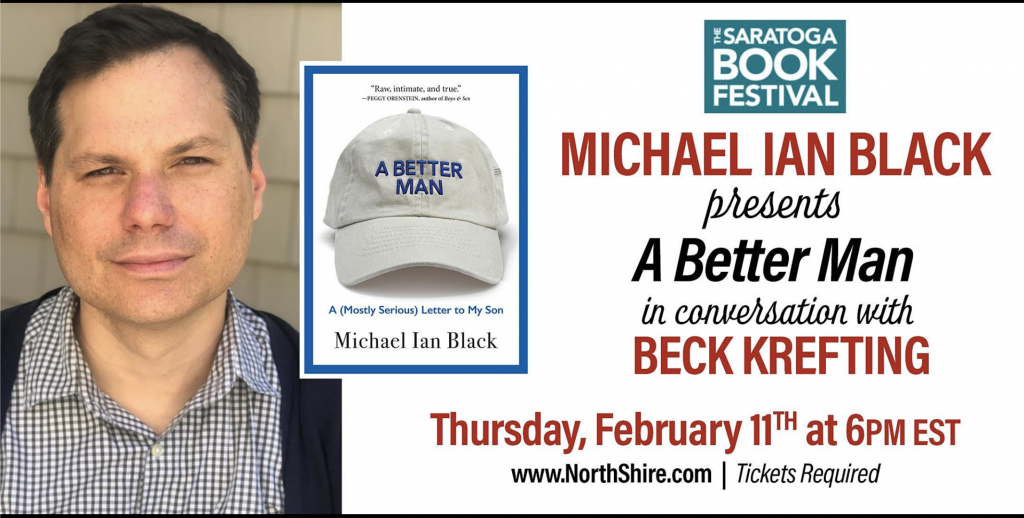 About The Author
Michael Ian Black is an actor, comedian, and writer who started his career with the sketch comedy show The State, on MTV, and has created and starred in many other television shows. Movie appearances include Wet Hot American Summer, The Baxter, and Sextuplets.
Black is the author of several books for children, including the award-winning I'm Bored, I'm Sad, and I'm Worried, and the parody A Child's First Book of Trump. His books for adults include the memoirs You're Not Doing It Right and Navel Gazing, and the essay collection My Custom Van. Black also co-authored with Meghan McCain America, You Sexy Bitch.
As a stand-up comedian, Michael regularly tours the country, and he has released several comedy albums. His podcasts include Mike & Tom Eat Snacks, with Tom Cavanagh; Topics, with Michael Showalter; How to Be Amazing; and Obscure.
He lives in Connecticut with his wife and two children.
About the Interviewer
Rebecca Krefting, who goes by Beck, is Associate Professor and Chair of American Studies, affiliate faculty to Gender Studies, Intergroup Relations, and Media and Film Studies. She earned a BA in English and Psychology at the University of Alabama, Huntsville and an MA in Women's Studies at Ohio State University (OSU). She completed her doctorate in American Studies at the University of Maryland, College Park (UMD). Her research specializations are feminist comedy studies; studies of visual and popular culture; women's history and performance; preppers and post-apocalyptic cultural texts; and pedagogical studies.
Her monograph titled: All Joking Aside: American Humor and Its Discontents (Johns Hopkins UP, 2014) charts the history and economy of charged humor or humor aimed at social justice. Earlier publications include essays in the edited anthology The Laughing Stalk (Parlor Press, 2012) and a co-authored chapter on feminist architectural education published in Feminist Practices: Interdisciplinary Approaches to Women in Architecture (Ashgate Publishing Ltd., 2011). Lately she has been publishing her work in journals like Comedy Studies Journal, Studies in American Humor, and Journal of Cinema and Media Studies as well as contributing to edited collections such as: Hysterical!: Women in American Comedy (University of Texas Press, 2017), Transgressive Humor of American Women Writers (Palgrave Macmillan, 2018), and The Joke's On Us: Political Comedy Encounters Neoliberalism (Lexington Books, 2018). Other chapters can be found in the following forthcoming collections: Taking a Stand: American Stand-up Comedians as Public Intellectuals (University of Mississippi Press) and Ethics in Comedy (McFarland and Co.)
She has presented her research nationally and internationally and been invited to speak about her research—as a former stand-up comic, she can't help but do so humorously—to many academic institutions including Aarhus University in Denmark, UCLA, Hampshire College, Drexel University, Concordia University, Young Harris College, Columbia College, St. Norbert's College and ugh, you get the point. She gets her jollies talking with smart people who like to think critically about comedy.
If you just cannot get enough of this lady, you can check out her website here where you will find editorials, links to her scholarship, course descriptions and information, etc.
Follow Beck on Twitter: @beckrefting
About the Event
Northshire Bookstore and Saratoga Book Festival welcome comedian, actor, and author Michael Ian Black for a special virtual conversation about his latest book A Better Man: A (Mostly Serious) Letter to My Son with Skidmore College professor Beck Krefting.
About the Book
"Raw, intimate, and true . . . A Better Man cracked me wide open, and it's a template for the conversation we need to be having with our boys."
—Peggy Orenstein, bestselling author of Boys & Sex
A poignant look at boyhood, in the form of a heartfelt letter from comedian Michael Ian Black to his teenage son before he leaves for college, and a radical plea for rethinking masculinity and teaching young men to give and receive love.
In a world in which the word masculinity now often goes hand in hand with toxic, comedian, actor, and father Michael Ian Black offers up a way forward for boys, men, and anyone who loves them. Part memoir, part advice book, and written as a heartfelt letter to his college-bound son, A Better Man reveals Black's own complicated relationship with his father, explores the damage and rising violence caused by the expectations placed on boys to "man up," and searches for the best way to help young men be part of the solution, not the problem. "If we cannot allow ourselves vulnerability," he writes, "how are we supposed to experience wonder, fear, tenderness?"
Honest, funny, and hopeful, Black skillfully navigates the complex gender issues of our time and delivers a poignant answer to an urgent question: How can we be, and raise, better men?