SARATOGA PRIDE in Alliance with SBF Online presents A Night of Fiction Writers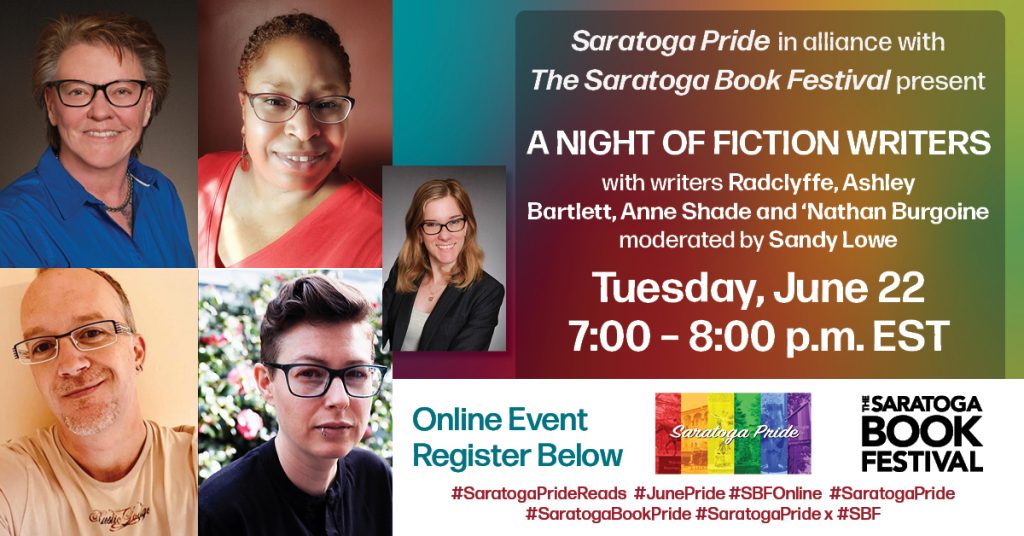 About The Author
Radclyffe, a nom de plume of Len Barot, founder and president of Bold Strokes Books, is a multi-award-winning author of more than 60 lesbian romance novels, as many short stories, and, writing as L.L. Raand, a paranormal romance series, The Midnight Hunters. Her latest title, Unrivaled, adds to her popular medical romances featuring sexy, passionate women discovering love in the fast-paced world of the ER and first responders.
A retired surgeon, Radclyffe is an eight-time Lambda Literary Award finalist in romance, mystery, and erotica. She is a member of the Saints and Sinners Literary Hall of Fame, and her works have earned numerous awards from the Romance Writers of America and its subsidiaries. Radclyffe won the Dr. James Duggins Outstanding Mid-Career Novelist Award by the Lambda Literary Foundation and is a featured author in the 2015 documentary film Love Between the Covers from Blueberry Hill Productions.
"[Radclyffe's] informal, forthright and flowing writing style, rich with characterizations and realistic dialogue set within a contemporary time frame, make a most rewarding reading experience." –  The Lambda Literary Review
Ashley Bartlett is the author of the Dirty Trilogy and Cash Braddock series of romance and mystery/thriller novels. Her latest, Journey to Cash, ranks among "the most anticipated LGBTQ Books" of January 2021 by Lambda Literary. Playful, serious and sarcastic, Bartlett's books of mad-cap adventures are filled with witty and caring characters.
"The action is provocative. The love scenes are exhilarating. The pain is heart-wrenching. The dialog is crisp and sometime even comical, especially as Cooper fumbles her way through life with the mob." – Anna Furtado, Lambda Literary review of Dirty Money
Anne Shade is the author of Femme Tales and the newly released Masquerade, two romance novels featuring strong black female characters. Her short story, "For Her Love" appeared in the anthology LesFic Eclectic: Volume Two, and her collaboration with editor Victoria Villasenor led to the thoughtfully curated collection of short stories: In Our Words: Queer Stories from Black, Indigenous and People of Color. Released on June 1, 2021, this anthology showcases renowned and emerging voices that, together, capture the complexity and diversity of the human experience at the intersection of racial and queer identity.
"Shade twines together three sensual novellas [in Femme Tales], each based on a classic fairy tale and centered on black lesbian love. Readers looking for sweet and spicy lesbian romance will be pleased." – Publishers Weekly
'Nathan Burgoine authors tales of romance, speculative fiction, and, in his words, "somewhere between the two." Burgoine's first novel, Light, was a finalist for a Lambda Literary Award and the BOTYA Gay & Lesbian ForeWord award, and his YA novel, Exit Plans for Teenage Freaks, was a finalist for the Prix Aurora Award. His most recent releases are romance novellas taking place in a fictionalized version of the Ottawa Gay Village. They include "Handmade Holidays," "Faux Ho Ho," "A Little Village Blend, and the charming "Village Fool" published in March 2021 to ecstatic reader reviews.
About the Interviewer
Sandy Lowe is Senior Editor at Bold Strokes Books, an independent publisher of quality LGBTQ literature aiming to bring affirming, validating works by serious authors to the LGBTQ community. Lowe is the author of erotica/romance, including her most recent titles: Party of Three and If You Dare.
About the Event
The folks at Bold Strokes Books, one of the world's largest independent publishers of quality LGBTQ literature, bring together four of their authors to talk about their award-winning fiction. Senior Editor Sandy Lowe, an author in her own right, moderates what is sure to be a lively conversation between Radcylffe, Ashley Bartlett, Anne Shade, and 'Nathan Burgoine. Q&A follows.
About the Book
About Bold Strokes Books
Bold Strokes Books enriches the body of LGBTQ literature by publishing a diverse collection of lesbian, gay, bisexual, transgender, and queer general and genre fiction. BSB genre fiction includes all romance subgenres, as well as action, adventure, crime, mystery/intrigue, and speculative fiction (sci-fi/fantasy/horror). Bold Strokes' Soliloquy YA imprint (ages 14-18) features stories within all fiction genres that delve into questions of identity, gender, sexuality, self-esteem, peer relationships, ethics, and life issues.