SARATOGA PRIDE in Alliance with SBF Online presents A Night of Poetry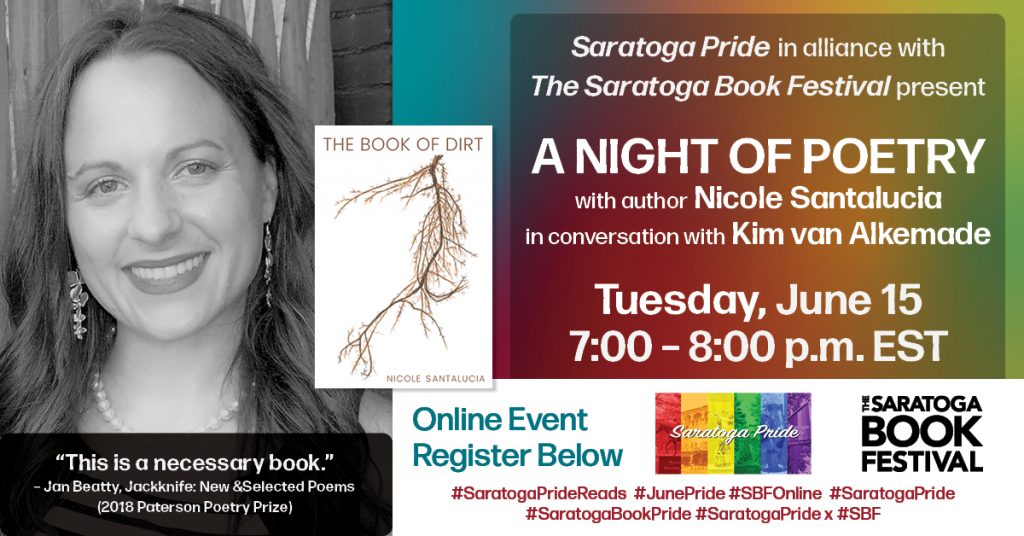 About The Author
Nicole Santalucia is a recipient of the Charlotte Mew Chapbook Prize and the Edna St. Vincent Millay Poetry Prize. Her work has appeared in publications such as The Best American Poetry, The Cincinnati Review, The Rumpus, and TINGE Magazine. She is the author of Because I Did Not Die and Spoiled Meat. A Binghamton native, Santalucia teaches at Shippensburg University in Pennsylvania and has taught poetry in regional prisons, libraries, Boys & Girls Clubs, and nursing homes.
About the Interviewer
Kim van Alkemade is the author of bestselling historical novels Orphan #8 and Bachelor Girl. Her creative nonfiction essays have appeared in literary journals, including Alaska Quarterly Review, CutBank, and So To Speak. Born in New York City, she earned an MA and PhD in English from the University of Wisconsin-Milwaukee. She is a Professor at Shippensburg University of Pennsylvania where she teaches writing.
Her newest title, Bachelor Girl, is inspired by the true story of Jacob Ruppert, the millionaire owner of the New York Yankees, and his mysterious bequest in 1939 to an unknown actress, Helen Winthrope Weyant. Bachelor Girl is a fresh and intimate novel about the destructive power of secrets and the redemptive power of love.
"[Bachelor Girl] is a triumphant and well-woven tale that deftly explores the complexities of the human bond."
– Lauren Francis-Sharma, Book of the Little Axe (2020 American Library Association's "Libraries Transform Book Pick")
Purchase Orphan #8, here.
Purchase Bachelor Girl, here.
About the Event
Prize-winning poet Nicole Santalucia reads from her newest volume of poetry and converses with our own Saratoga Springs resident Kim van Alkemade, author of the bestselling historical novels Orphan #8 and Bachelor Girl. Q&A follows.
About the Book
The Book of Dirt
Santalucia will read from her newest publication—a "vivacious volume," remarks David Lehman, editor of The Oxford Book of American Poetry and The Best American Poetry. In poems that veer from surrealism to slapstick, The Book of Dirt chronicles outrage, love and fear wed to the terrain and culture of South
Central Pennsylvania, where lesbians crawl out of the grave that America has been digging since its inception. "My new body of work confronts misogyny, homophobia, and addiction," says Santalucia. "These poems excavate the roots of contemporary traumas by gazing at difficult realities."
"Nicole Santalucia's poems reflect the wit and will of a soul that has been saved by marriage, sobriety, and the magic of poetry."
– David Lehman, One Hundred Autobiographies: A Memoir