Kao Kalia Yang and Tricia Springstubb in Conversation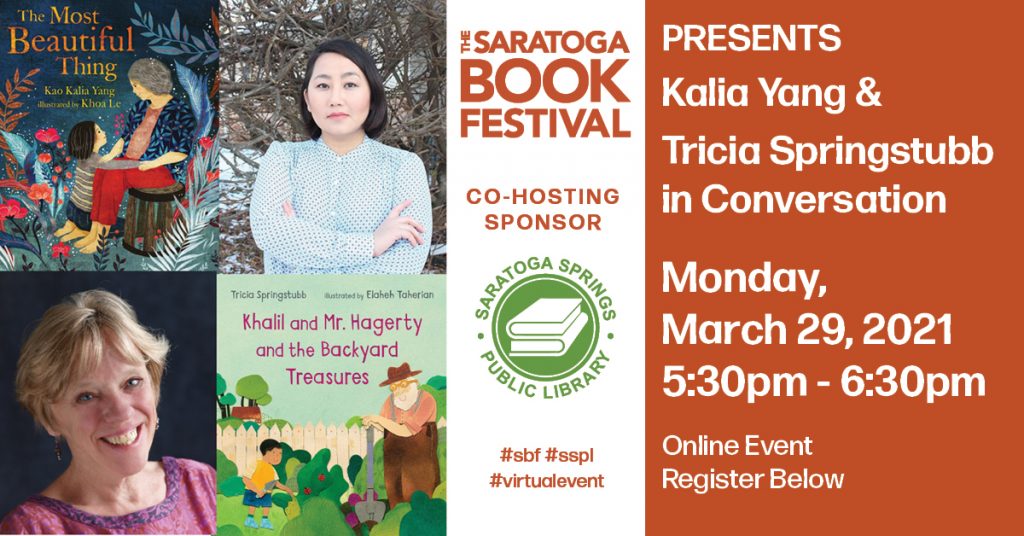 About The Author
Kao Kalia Yang is an award-winning memoirist and children's book author, and a frequent speaker about her family's experiences as resettled Hmong refugees in Minnesota. Her memoir The Latehomecomer is an NEA Big Read selection, and she was the 2019 SaratogaREADS! captstone speaker.
Tricia Springstubb has written many books for young people from preschool to middle grades, including Phoebe and Digger, the Cody series, and What Happened on Fox Street, which was named a best book of the year by Kirkus, The Washington Post, and Bank Street School.
About the Event
Saratoga Book Festival and Saratoga Springs Public Library are pleased to present Kao Kalia Yang and Tricia Springstubb in Conversation. In their recent picture books The Most Beautiful Thing by Kao Kalia Yang, and Khalil and Mr. Hagerty and the Backyard Treasures by Tricia Springstubb, these two authors illuminate the wisdom of the very young and the very old in beautifully illustrated stories about intergenerational relationships.
About the Book
The Most Beautiful Thing, lavishly illustrated by Khoa Le, is a memoir of Yang's early life as a Hmong refugee in Minnesota, and the surprising lesson she learns from her grandmother about finding beauty in the most unexpected place. Kirkus calls it "a deep and moving reflection on enduring hardship and generational love."
In Khalil and Mr. Hagerty and the Backyard Treasures, with paper-cut collage illustrations by Elaheh Taherian, an unlikely friendship develops between an inquisitive young boy who lives with his boisterous family in the upstairs apartment of a house, above an old man, who lives alone below. Booklist calls it a "wonderful story about making friends, no matter how old or young you are."
Although very different in their illustrations and style, these two stories share universal messages about language, the inevitability of disappointment, and finding delight in the most surprising places.